Memory Care in
Olympia, WA
Find Your Olympia, WA Care Advisor
Find the Best Memory Care Near Olympia, WA
A memory care facility in Olympia, WA, is a long-term residential property purposefully set up to care for the unique needs of people with dementia and cognitive decline. Professionally trained caregivers are on-site 24 hours a day to lend a hand to residents who need help with personal care or provide redirection and reminders. Some Olympia memory care properties are exclusive homes for people with cognitive decline, while other memory care communities are separate wings of a larger assisted living facility.
Types of Memory Care in Olympia
Alzheimer's Disease is the most commonly known type of dementia, but it's just one of several types of this Disease. Memory care facilities in Olympia may accept residents with any dementia diagnosis, including:
Mixed dementia

Lewy body dementia

Frontotemporal dementia, and

Alzheimer's Disease
Memory care communities may also accept residents with cognitive decline caused by another type of disease or chronic condition, like:
Huntington's Disease

Parkinson's Disease

Creutzfeldt-Jakob Disease

Traumatic brain injury (TBI)
Memory care properties are designed to create a soothing and easy-to-navigate environment for residents. Many may have open floor plans or shorter, wide hallways that reduce confusion for residents. Low music and lighting can help manage stimulation in the environment. Security and the safety of residents are paramount, so many places have cameras in the common areas and exterior and locked doors to prevent wandering residents from getting hurt.
A low staff-to-resident ratio provides a more secure environment for residents, as well, as they receive more attention from staff members and have a higher level of engagement. Memory care staff members are professionally certified to work with people who have dementia and handle some of the escape-seeking or anxious outbursts many people exhibit. Some facilities offer on-site occupational or other therapy to enhance residents' quality of life and help slow cognitive decline.
Finding Your Memory Care Advisor in Olympia, WA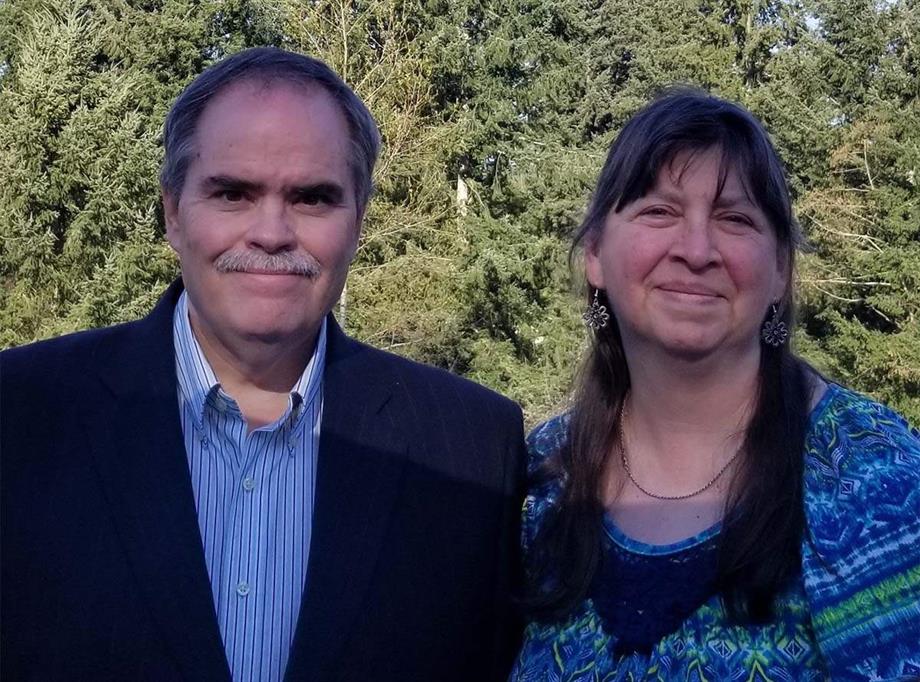 James and Cindy Holston | 425-243-9750
Areas Covered:
Serving Eastside and South Puget Sound Communities in King County
Connect now
What is the Cost of Memory Care in Olympia, WA?
The cost of memory care in Olympia, WA, is $5,622 per month on average. Many families may note that the monthly fees for memory care are higher than for other types of senior living. This is due to the increased staffing levels in memory care homes and the specialized training these staff members undergo. Some Olympia memory care properties offer all-inclusive pricing, while others have tiered pricing depending on eh services your loved one requires. A local Olympia memory care advisor can help you understand the pricing structure of area memory care communities.
Memory care properties provide private rooms for each resident and include light housekeeping services, and healthy meals prepared on-site. Some facilities have other amenities for residents, like an exercise room or swimming pool for supervised fitness or different art, music, or pet therapy programs to help enhance the quality of life for residents. Many people in memory care require help with different activities of daily living (ADLs), so caregivers are readily available to assist with the following:
Toileting or incontinence help

Shaving, brushing hair, or grooming

Bathing or showering

Escorts to meals or other activities

Medication amassment

Eating or feeding tube maintenance
Each senior in memory care has a personalized care plan, including their dementia diagnosis and the recommended course of treatment from their physician. These care plans include underlying medical concerns that caregivers need to be aware of and even some of the special assistance that each senior needs. Rest assured, though, your loved one will have help nearby whenever they need it, regardless of the treatment plan.
Olympia, WA At a Glance 
Olympia is the capital city of Washington state, located at the southern tip of Puget Sound. Seniors benefit from the amenities that one of the largest cities in the state provides, including a wide selection of memory care communities.
Olympia weather

is generally pleasant and temperate, with moderating influence from the nearby Pacific ocean. Winters have rare snow, while summertime highs are in the high 70s.

Memory care seniors have plenty of options for high-quality medical care, including

MultiCare Capital Medical Center

and

Providence St. Peter Hospital

.

Intercity Transit

is Olympia's public transportation system, consisting of fixed-route bus lines and paratransit for disabled residents who need it.

Families visiting their loved ones in memory care may enjoy spending time on the water at the Puget Sound, strolling the boardwalk at Percival Landing Park.  
How Do I Pay for Memory Care in Olympia?
Many seniors may be eligible for government programs or other assistance to help pay the fees for memory care, reducing out-of-pocket costs for families. A local Olympia memory care advocate can help you learn about different ways to pay for memory care.
Veteran's Benefits
Military veterans and their surviving spouses may use benefits from the U.S. Department of Veterans Affairs to pay for long-term care and memory care services. The Improved Pension Plan and the Aid and Attendance Benefit. A local VA Center representative can help you apply on behalf of your veteran.
Long-Term Care Insurance
Long-term care insurance is an optional insurance plan that some seniors may have enrolled in that can be used to pay for memory care. It may be part of their primary health or life insurance policy or a separate program, so check your loved one's coverage to see if they have enrolled in such a plan.
Home Equity
Olympia homeowners may convert the equity in their homes to pay for memory care. If your loved one has paid off their house or most of their mortgage, ask an Olympia memory care housing advisor about how to use home equity for memory care.
Medicare
Traditional Medicare doesn't cover memory care fees or services, but once a senior is enrolled in Medicare Part A and B, they can also enroll in optional Medicare plans, which may cover memory care. Check our loved one's coverage to see if they participate in Supplemental Medicare.
Medicaid
Washington Medicaid provides a Home and Community Based Waiver, which seniors may use to pay for memory care accommodations. Your loved one may qualify; a local memory care advisor can help you apply on behalf of your loved one.
Take Our Senior Living Assessment Quiz Now
FAQ About Memory Care in Olympia, WA
While nursing homes and memory care facilities share some commonalities, such as 24-hour care and support for residents, there are differences, too. Memory care communities are dedicated to the unique needs of people with dementia, while nursing homes offer more general medical care for people who cannot manage their conditions on their own.
Memory care facilities encourage residents to bring familiar furnishings and their favorite belongings to decorate their apartments as they choose. There may be some items that your loved one cannot bring, so ask your Olympia memory care advocate about what to pack for your loved one.
If you are unsure where to start when seeking a memory care facility for a loved one, consult with a local Olympia memory care advisor. They know the city well and can help you learn about which features of different properties would best meet the needs of your senior.