Memory Care in
Kansas City, MO
Find Your Kansas City, MO Care Advisor
Find the Best Memory Care Near Kansas City, MO
You might have heard about memory care from your loved one's physician. But you may have many questions about what a memory care facility is and how it helps your loved one who has Alzheimer's disease or another dementia-related disorder. A memory care facility is specially designed to help residents with dementia feel secure and less anxious. There comes a time when caring for a loved one with dementia requires specialized training and round-the-clock care.
Your local advisor ensures that you are not alone during the decision-making process of finding memory care in Kansas City, MO facility for your family member. Our local advisor explains, in detail, the various sources of paying for memory care. The local advisor will accompany you on facility tours to help answer your questions and remind you of important aspects to notice. Family members can be overwhelmed by all the details, so your local advisor will be with you throughout the process of finding the best community for your loved one.
Finding Your Memory Care Advisor in Kansas City, MO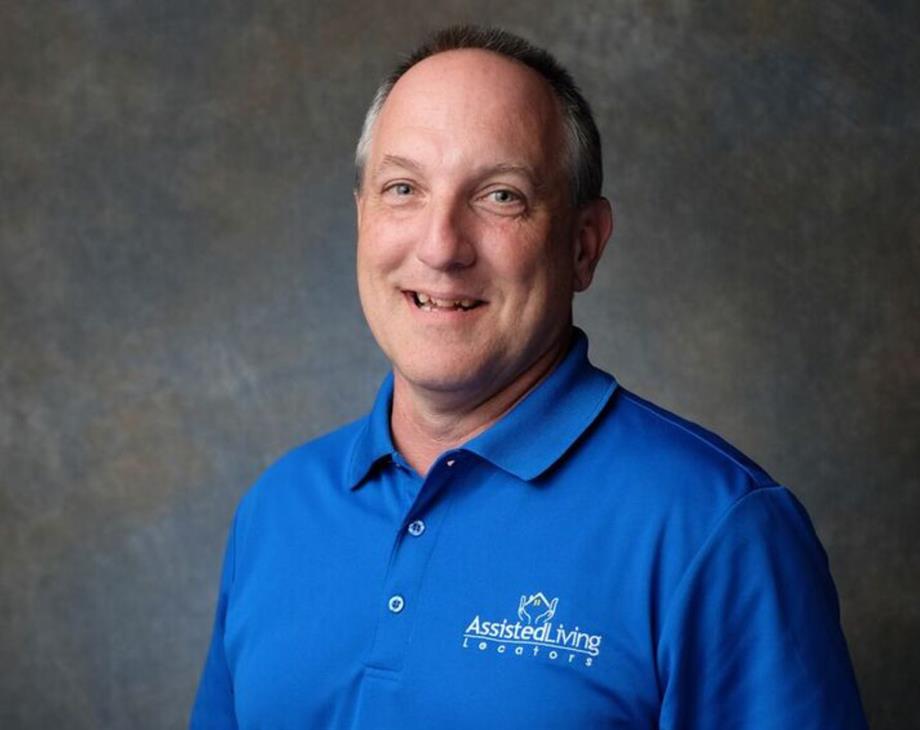 Mike Nixon | 913-538-5435
Areas Covered:
Serving Olathe, Overland Park, Leawood, Prairie Village and the Greater Kansas City area
Connect now
What is the Cost of Memory Care in Kansas City, MO?
The average cost for a memory care community in Kansas City, MO, is $5,602 per month. Memory care facilities often cost up to 25% more than assisted living communities. The cost differential is in the level of care and staff training.
Safety. Safety is paramount in memory care communities. Expect to see keypads and alarms on all exterior doors. Some facilities go a step further and utilize a tracking device like WanderGuard to pinpoint the location of each resident within the facility.
Staff Training. Memory care facilities have a higher ratio of employees to residents to help ensure personal attention for your loved one. The staff members receive training in how to curb aggression or anger. The staff has training in activities that help residents maintain cognitive skills and training in reminiscence therapy, which often calms and reassures your loved one.
Quality of Life Enhancements. Specialized programs designed for residents with Alzheimer's and other kinds of dementia are key in helping memory care facilities provide a warm, friendly, and homelike experience. Art and music therapy, sitting in the outdoor area, and a memory board of photos are part of enhancing your loved one's quality of life.
Room and board, meals, activities, and utilities are included in the monthly cost of a memory care community — a staff member checks on your loved one to ensure that they go to their meals and eat.
What Should Every Senior Know About Living in
Kansas City, MO

?

The population of the Kansas City, MO metropolitan area is about 2.17 million people. Kansas City is located at the confluence of the Kansas River into the Missouri River.
Kansas City

Weather & Climate:

Summers are hot and humid with cold winters — over 20 winter days see the high temperature for the day below 32 degrees.
Local Hospitals and Notable Medical Care:
The Kansas City metro area is home to 36 hospitals. The University of Kansas Hospital and St. Luke's Hospital of Kansas City are both nationally ranked with high performance in many medical procedures and conditions.
Transportation:
From the Kansas City International Airport to Interstates 435 (the second longest beltway in the US), the city is easy to reach and drive from place to place.
Arts, Culture, and Recreation:
The Kauffman Center for the Performing Arts is home to the Kansas City Symphony. The Kauffman Center also hosts the Kansas City ballet. Sports play a big part in Kansas City life, too.
How Do I Pay for Memory Care in Kansas City, MO?
You may need to utilize several funding sources to pay for a Kansas City, MO memory care facility for your family member. Memory care communities are designed and staffed specifically for people who have been diagnosed with dementia. These illnesses include:
Alzheimer's disease
Parkinson's disease with dementia
Vascular dementia
Dementia with Lewy Bodies (DLB)
Frontotemporal dementia
Your family members will be safe and secure in a memory care community.
Your Kansas City, MO memory care advisor can help you explore the potential sources to pay for your loved one's care.
Veteran's Benefits
Veterans (or their spouses) who served during times of war (even if they didn't see combat duty) may qualify for a little-known program through the VA's Improved Pension Program. If your loved one served during WWII, Korea, Vietnam, or the Persian Gulf, the VA's Aid and Attendance program could help you pay for memory care in Kansas City, MO.
Long-Term Care Insurance
A family member who purchased long-term care insurance can use this policy to pay for a memory care facility.
Home Equity
A loved one's home could be a substantial source of funds for paying for your family member's memory care facility. Homeowners over 65 qualify for Federal capital gains tax relief — a single owner receives a $250,000 exemption from capital gains taxes while a couple is eligible for up to $500,000 of tax exemption. Be sure to talk to a tax specialist and attorney before listing your loved one's home, as you will have to have the legal right to sell your loved one's home.
Medicare
Your family may be surprised to learn that Medicare doesn't pay for room and board in a memory care facility. However, Medicare continues to cover doctor's visits, hospitalizations, and prescription drugs — just like they did before your loved one became a resident of a memory care community. Medicare covers hospice care for your loved one who has dementia. Should your family member be eligible for Medicaid, you have the option of enrolling them in a Medicare Special Needs Plan (SNPs) that would be managed through a Medicare Advantage plan.
Medicaid
An Aged and Disabled waiver program is available to help people with mild-to-moderate Alzheimer's stay at home. The waiver program provides help for individuals whose functional status requires a nursing home.
Take Our Senior Living Assessment Quiz Now
FAQ About Memory Care in Kansas City, MO
Assisted living facilities are most appropriate for family members who need a little extra help with daily chores. Taking care of a house by oneself can be too much for your mother or father. A memory care facility is specially designed and staffed for residents who have some form of dementia. Loved ones with dementia may get disoriented and confused, or even worse, begin to wander. Their physical safety is at risk. Memory care communities are designed to keep your loved one with dementia physically safe and more emotionally secure and calm.
Whether your loved one lives with you or is living alone, the time eventually comes that a loved one with Alzheimer's disease or other dementia will need round-the-clock care. These signs may indicate that it's time to begin your search.
Poor personal hygiene. Your family member forgets to brush their teeth or put on fresh underwear. They might have problems with toileting.
Weight loss. People with dementia forget to eat or give the plate you prepared for them to the family pet.
Behavioral changes. Loved ones may become anxious and upset or have uncharacteristic outbursts. They may become afraid and apprehensive as it gets dark.
You can rely on an Assisted Living Locators expert in Kansas City, MO.